An Interview with Sunny Chang, Youth Programs Manager at Outdoor Outreach


What's your favorite outdoor activity?
Surfing. Closely followed by paddle boarding, rock climbing, disc golf….it's hard to choose!
What's it like being an Outdoor Outreach instructor? 
Even after more than a decade, the opportunity to share my passion for the outdoors is indescribable. To see youth overcome a challenge they never thought possible and share the stoke they feel for that outdoor space or activity is the highlight of being an Outdoor Outreach instructor.
What are some of the challenges facing the youth you work with at Outdoor Outreach?
We work with youth from some of San Diego's most under-resourced communities. For some, Outdoor Outreach is their only safe space and chance to experience positivity and healthy relationships. To have a trusted adult available for support and encouragement through times of adversity is profound.  
That's why I'm here. To share my passion with young people, but also to guide them through challenges and help them build confidence to stand up for themselves and make good decisions.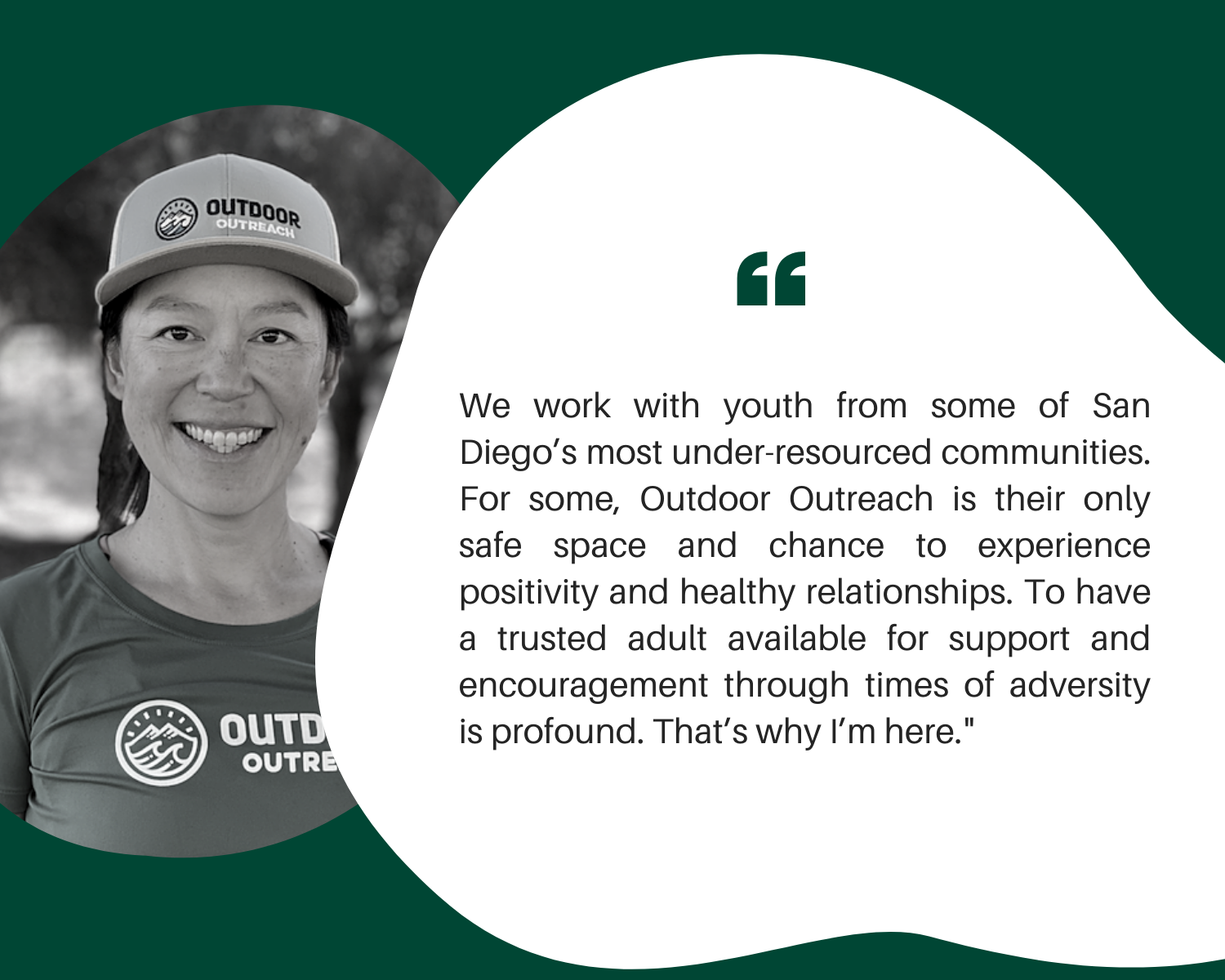 Can you share a story of impact from the field?
I watched one group of boys who joined the Outdoor Outreach club at their school grow from wild freshman into role models for incoming participants. 
One of these young men, who was on the verge of being expelled his freshman year, exhibited tremendous growth in the 4 years I knew him. In one of our last meetings, he told me all about his plans to go to college and support his family. I was blown away thinking about how far he'd come—especially because his older brother had taken a really different path, including drugs and gang involvement. 
His story highlighted the most important part of our impact to me: helping young people realize the power of choice and providing them with tools to make good decisions at home, in their personal lives, and at school. I felt so much pride that day in being able to share how much I'd seen him grow.
What impact do you want to have as an Outdoor Outreach instructor?
I want to plant a seed of possibility. 
I want to help our youth connect the obstacles they overcome in the field to challenges they'll face outside of Outdoor Outreach. One young woman shared after a day of climbing: "Sometimes you're up on a rock and it feels like you can't make it—but if you slow down and breathe and take it easy, you can. I just realized that applies to all of life, too!" 
I really felt like I was doing something right that day.