Stand-Up Paddling on a hot summer day… Enjoying stunning San Diego views from the water, playing with peers, and connecting to the uplifting beauty of the Outdoors.

Those smiles belong to Outdoor Outreach's summer program participants, who got to enjoy, sometimes for the very first time, the refreshing and invigorating Pacific Ocean.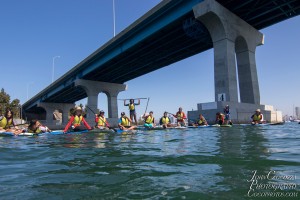 If you live in San Diego, you've probably had a chance to try out Stand-Up Paddleboarding (or SUP). This activity, which consists in standing on a large surfboard using a paddle to move on the water, started becoming popular about 10 years ago and quickly became one of America's most favored water activities.

 It's fun, easy to learn and apparently a fantastic workout -undoubtedly one of the most enjoyable ways to explore California's waterways in the warm summer months, and long a tourists' favorite in Coronado, Mission Bay and La Jolla.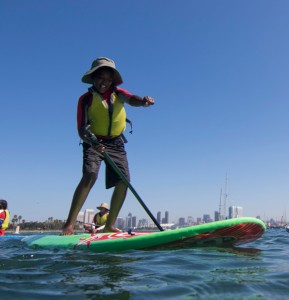 While the sport requires minimum gear, its demographics remain notably disproportionate: in 2012, 81% of SUPers were Caucasian; 28% made $100k+ a year.


Outdoor Outreach first started offering SUP trips in 2012. SUP'ing was an immediately engaging way to introduce underserved youth to their natural resources, an opportunity to be outside, do something different, and to provide much needed reprieve from the challenges that many of the communities we serve face everyday.


In 2016, Outdoor Outreach offered 26 SUP outings –11 over the summer. Importantly, by exploring waters such as Tidelands Park in Coronado where the majority of those trips took place, participants were introduced to the diverse and fragile ecosystems and resources our urban refuges protect.

The joy of stand-up paddling, the simplicity of playing in the water and appreciating the beauty of outdoor spaces so close to them, often spark a sincere sense of responsibility in the youth we serve. Through this trip at Tidelands Park and the ones that followed, they were able to naturally understand their role in minimizing their impact and protecting those ecosystems. This meaningful connection forged between the urban and diverse youth we serve and the lands and waters that surround their communities would not be possible without funding from the US Fish and Wildlife Service, which supports the majority of these SUP outings. 

Outfitters such as Jobe Sports International, who recently donated a Aero SUP 10.0 and wetsuit to Outdoor Outreach's largest annual fundraiser, continue to inspire youth to get out on the water. 

Thank you to the US Fish and Wildlife Service and Jobe Sports for their support!

Photo credit: John Cocozza 
Location: Tidelands Park, Coronado, CA