With summer creeping in, we all enjoy outdoor activities where we can stay cool. Over the next few months, our programs will include kayaking, surfing and standup paddle boarding. Sounds like fun? We've put together some tips for beating the heat in San Diego while still enjoying some of your favorite outdoor activities!
Splashing Around at Waterfront Park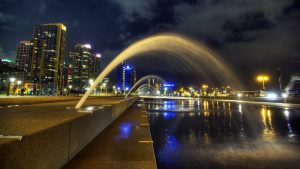 If you have fond memories of running through sprinklers as a kid, then you'll love Waterfront Park! With the historic backdrop of downtown San Diego's landmark buildings, you can frolic in the fountains, the play zone or just picnic on the grass. In addition, Waterfront Park is walking distance to the USS Midway Museum, the Maritime Museum and a quick drive from the San Diego Zoo and Balboa Park.
Cycling the Bayshore Bikeway



Is traveling by bike your favorite way to get around? If so, pedaling to Coronado via the Bayshore Bikeway is a great way to see downtown San Diego, the Silver Strand and the quaint community of Coronado.
This 24-mile ride combines bike paths with surface streets, most of which have dedicated bike lanes. We recommend starting near Waterfront Park or Little Italy, and then finishing off with a ferry ride back to downtown. Ferries depart the Coronado Ferry Landing frequently, and it's a quick trip across to either the Broadway Pier or the Convention Center.
Are you hesitant about riding on surface streets? Take the ferry across to Coronado first, then ride on the bike path down to the Silver Strand. Turn around when you get to the end of the path on West Frontage Road and Main Street in Chula Vista. Total mileage: 25 miles.
Snorkeling and Kayaking at La Jolla Cove and La Jolla Shores



Are you and your kids ocean lovers and prefer to cool off with an ocean swim? Well then grab your snorkeling gear and head over to La Jolla Cove or La Jolla Shores for some of the best snorkeling in Southern California. In addition to snorkeling, you can kayak, and there's also standup paddle boarding and surfing!
Wildlife sightings may include harbor seals and California sea lions, brown pelicans, cormorants, bat rays, bright orange garibaldi and leopard sharks. The leopard sharks at La Jolla Shores are fairly harmless, and are more afraid of you than you are of them. These beautifully spotted creatures congregate in the shallow, calm waters in front of the Marine Room Restaurant at La Jolla Shores. They range in size from 1-6 feet in length, and they feed on bottom dwellers in the mudflats, like shrimp, worms, crabs and fish eggs.  
If you have small children, La Jolla Shores is a better bet as the waves are smaller and the beach entry is gentle. In addition, parking at Kellogg Park in La Jolla Shores is easier than parking at the Cove. Either way, plan to arrive early in the morning to ensure a good spot! Also check the surf conditions and the tide a few days before you plan to go. There's better visibility at low tide with calm seas and little to no wind.
New to the area or to snorkeling? Go with a guide! Here's a few of the best guides for kayak and snorkeling at La Jolla Shores. They can also help you with gear rentals:
La Jolla Kayak
Bike and Kayak Tours
Everyday California

Hiking or Trail Running at Torrey Pines State Natural Reserve



Hiking through Torrey Pines State Natural Reserve is definitely on the top of our list when the mercury begins to rise. The best part? You can park at the beach and enjoy a swim after your hike! Trails range from easy to moderate, and we recommend hiking up to the Nature Center first, then making your way back down to the beach via the Razor Point Trail or the Beach Trail.
If you park in the North Beach Parking lot, off of Carmel Valley Road, you can extend your hike to include the marshland trails around Los Penasquitos Lagoon.
Hiking, Camping and Surfing at San Elijo State Beach

If you're looking to camp by the ocean, San Elijo State Beach is the perfect spot! When roasting marshmallows outside your tent, you can see the stars, hear the waves, and feel miles away from the city. The campsites at San Elijo State Beach Campground are perched atop a coastal bluff, with steps leading down to the ocean.
If you didn't bring a surfboard, or need a lesson, Eli Howard Surf School is on-site to provide everything you need for a fun day of surfing with the family. They even offer teen and adult overnight surf camps!
Besides walking on the beach, hiking trails can be found nearby at the San Elijo Lagoon Ecological Reserve. This is a great spot for early-morning birdwatching. Here you will find a Nature Center and access to 7 miles of easy to moderate trails, like Annie's Canyon Trail.
Coastal Cruising from Solana Beach to Leucadia

If you're looking for lazy afternoon activity this summer, pedal along the Pacific Coast Highway. We recommend starting in Solana Beach and heading north through Encinitas to Leucadia. Going by bike allows you to enjoy the scenery, and you'll have no problems finding parking in front of the dozens of cafes, shops, restaurants and bars along the way. Bring along a backpack with sunblock, water, bathing suit and a towel, and you can swim at Fletcher's Cove,  Moonlight Beach or Swamis on your way north!
If you need to buy or rent gear, there are several shops in Solana Beach that can help:
Pedego Electric Bikes
Revolution Bike Shop
Trek Bicycle Superstore
Remember to pick up a helmet and bike lock, along with front and rear taillights if you plan to stay out until sunset.
Trail Running and Mountain Biking in Balboa Park
photo copyright: San Diego Magazine

Do you love trail running and mountain biking, but want to stay close to the coast this summer? If so, there are plenty of easy to moderate trails nearby in Balboa Park! Whether you want gently rolling wide open trails, or single track with steep switchbacks and rock gardens, Balboa Park has it all. It's also dog-friendly, so you can run or bike with your favorite furry friend, on a leash of course!
From the Golden Hill Trails Gateway to Morley Field, there are several access points to get you off the pavement and into the dirt. You will pass through the more natural areas of the park, filled with oak groves, dry stream beds, eucalyptus trees and cactus gardens. Bordering the trails are the Morley Field Sports Complex and Dog Park and the Balboa Park Golf Course. Both locations provide access to even more activities, like tennis, swimming and a driving range!
We hope you enjoy the sunshine and stay cool out there. Got a fun place you like to escape to when San Diego heats up? Please leave us a comment. Happy trails!


Meredith McConvill is a volunteer with Outdoor Outreach, and the Co-Founder of Top Rope Media. She enjoys rock climbing, snowboarding and cycling in Southern California, or wherever her work projects take her.