Written by Ben McCue, Executive Director, Outdoor Outreach
At Outdoor Outreach, we believe that outdoor experiences with friends and family can be transformative.
In light of the current health crisis and economic recession, our work is more critical than ever before.
Last month, I joined our Programs team at an event in collaboration with Barrio Logan College Institute, a 17-year community partner of Outdoor Outreach that prepares first-generation students for college. Held at De Anza Cove in Mission Bay, the family program was free for attendees and carefully adapted to meet state and county public health guidelines. Instructed entirely in Spanish, the event gave families from Logan Heights and Barrio Logan the opportunity to get out on the bay, learn to stand-up paddle board, and spend time outside together.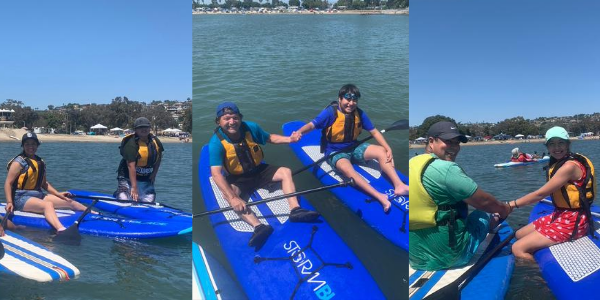 The day was full of smiles and laughter. Yet, in speaking with the parents and kids, it was clear that the impact of the program was much greater. One mother thanked me over a dozen times, andshared that it has been a difficult summer for her and her four kids. In the summer out-of-school months, she typically relies on community services to keep her kids engaged. This year, with libraries and swimming pools closed, our event was the first time they had spent time outside the house together in months. The mother told me she almost didn't come because she thought she would feel out of place—but she was glad she did.

Another father took the day off work to connect with his son, giving him the chance to experience something new and step outside of his comfort zone. He explained that his son has poor balance and that he worries about his lack of physical activity, and they had never been to Mission Bay beforeIn our program wrap-up, the father shared that they looked forward to coming back, and to checking out other parks and beaches in the area. His son asked when the next adventure would be.

---
Outdoor Outreach is a San Diego-based 501(c)(3) nonprofit that provides adventure-based youth development programs serving 1,700 vulnerable and at-risk youth each year. Through those programs, we're helping youth build resilience in the face of challenges, and confidence in their power to make a difference.