Outdoor Outreach's Board of Directors, staff, and Leadership Program participants came together with more than 160 community supporters and outdoor enthusiasts to support Outdoor Outreach's inaugural Lead the Way event on October 29th. Together, our community honored San Diego leaders championing greater outdoor access for youth and underserved communities, including Supervisor Greg Cox, The San Diego Foundation, and the U.S. Fish and Wildlife Service's San Diego Refuge Complex.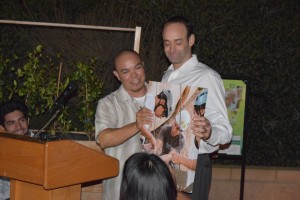 It was a special moment when Juan, Outdoor Outreach's first Leadership program graduate — now a full-time Field Program Coordinator at Outdoor Outreach — recognized Chris Rutgers' visionary leadership in opening the outdoors to thousands of underserved youth like Juan, and presented him with an Outdoor Award.

For many, the highlight of the evening was the keynote address by Vincent Culliver, an Outdoor Outreach Partner program alumni, Leadership program graduate, and part-time Outdoor Voices Program Coordinator. Vincent shared the impactful story of how outdoor experiences through Outdoor Outreach positively shaped his life. Coming from a family challenged with domestic violence, Vincent was forced to grow up quickly: "To someone who has experienced trauma at a young age, the fear of the unknown can be paralyzing. Through my experience in the outdoors with supportive role models I realized what I was capable of. And I developed the ability to make it past the negative influences around me."
Vincent affirmed his love of the outdoors, but even more so, the joy he gets from sharing these experiences with other youth most in need: "As an outdoor leader, my passion is in the field. I love helping kids overcome their fears: of heights, swimming, biking…even speaking up in a group. The outings that stand out the most for me are those where I work with youth similar to myself…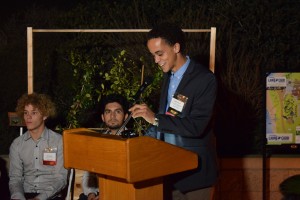 I love being able to inspire others to look around and see the possibilities." Event attendees came away with a greater understanding of how Outdoor Outreach is transforming the lives of young people like Vincent through the power of the outdoors.
The Living Coast Discovery Center was the perfect location for an evening celebrating the outdoors. Event attendees enjoyed exclusive access the Living Coast's incredible exhibits, and the opportunity to learn more about the animals through live encounters provided by Living Coast staff. Attendees could pet burrowing owls and touch leopard sharks and stingrays while taking in the beautiful and peaceful refuge, home to a diverse array of plant and animal life.
Lead the Way's legacy extends far beyond the event. In its inaugural year, Outdoor Outreach's Lead the Way event raised $73,167 to help open the outdoors to thousands of San Diego young people to play, learn, serve, and share. Our guests' support meant so much to the Leadership participants who shared their stories, and to the youth we serve through our Adventure Club, Partner and Military programs each day. Through the generosity of Outdoor Outreach's community of supporters, our programs can continue to inspire youth to see possibility and opportunity in their lives, and realize the positive attitude and behavioral changes that can help them become happy, healthy and successful adults.

To view our event photo album, click here.