A conversation with mentor team Molly and Melanie
What's your favorite Outdoor Activity?
Molly: Biking
Melanie: Hiking
In a few sentences, can you tell us what your goals were coming into the Mentorship Program?
Molly: My goal was to hopefully provide some kind of additional support in my Mentee's life outside their family.  Someone she could talk to or be able to try new adventures with.
Melanie: My goals were to meet new people that share the same interests with me. I also wanted to try new activities with others to have a great time with people who might be willing to take a risk in trying something new too.
What is one thing you feel like you've changed or have become better at since starting the Mentorship Program?
Molly: Trying not to feel like everything we do together needs to have a big plan.  The best part of connecting with Melanie is sometimes just chatting and catching up on what is going on in each other's lives.
Melanie: I feel like I have been better at communicating with others since I have been shy ever since I was little. 
If you could describe your Mentor or Mentee in three words, what would you say?
Molly: Melanie is Positive, smart and kind
Melanie: Molly is Caring, hilarious and confident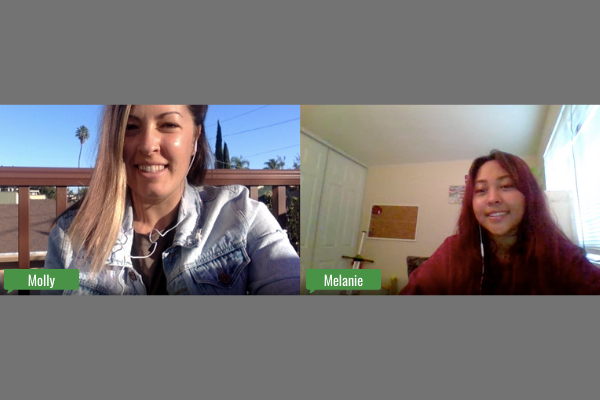 What have you gotten out of the Mentorship Program?
Molly: I feel I've gotten a lot out of connecting with Melanie over this year.  I know for me our time together has allowed me to take a break from the stress of the day (or year) and connect on a personal level!
Melanie: It is a great experience to get to know new people that might share some interests with you. Also getting to try new things will bring you out your comfort zone and it'll provide new skills towards your social life. 
Is there anything else you want to tell us about your time in the Mentorship Program?
Molly: I have loved our monthly Virtual Match meetups! It has been a time to connect with the whole Mentorship Program community at Outdoor Outreach and do some really fun activities!
Melanie: I have honestly loved the Mentorship Program especially through this pandemic because it has given me a chance to reach out to others and try to take your mind off it. It also gives people a chance to meet new folks while having a great time doing these activities virtually which I don't mind during this time. I don't regret taking part of this program because I learned so much from Outdoor Outreach that it has improved my social skills towards others and I hope to learn more over time.


---
Outdoor Outreach is a San Diego-based 501(c)(3) nonprofit that provides adventure-based youth development programs serving 1,700 vulnerable and at-risk youth each year. Through those programs, we're helping youth build resilience in the face of challenges, and confidence in their power to make a difference.