A conversation with mentor team Steph and Fernanda
At Outdoor Outreach, #mentorship is an integral part of what makes our programs successful. This #MentoringMonth, we'll be highlighting some of the mentor relationships across our organization that inspire youth to lead happy, healthy and productive lives beyond their time in the outdoors. 
What's your favorite Outdoor Activity?
Steph: Tennis
Fernanda: Mountain Biking
In a few sentences, can you tell us what your goals were coming into the Mentorship Program?
Steph: To develop my coaching experience and build a relationship with someone in need of guidance.
Fernanda: Having a person giving me advice in life and helping me achieve my goals.
What is one thing you feel like you've changed or have become better at since starting the Mentorship Program?
Steph: Learning how to better navigate honest conversations and how to connect with those who may not feel comfortable opening up at first.
Fernanda: Having someone help me and guide me to achieve my goals.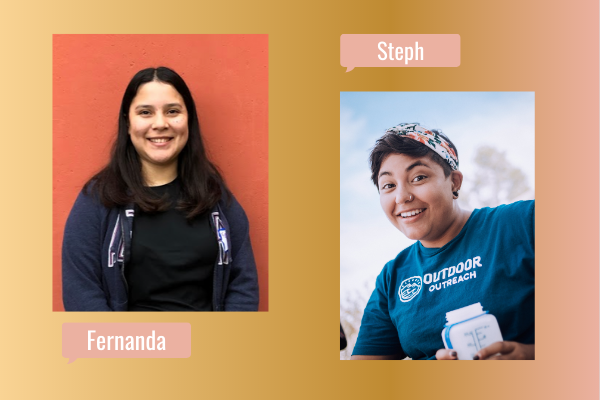 If you could describe your Mentor or Mentee in three words, what would you say?
Steph: Funny, honest, sassy.
Fernanda: Helpful, Amazing, super nice
Would you recommend for your friends to join the Mentorship Program? If yes, why?
Steph: Yes! Building connections and helping others is extremely fulfilling. Becoming a mentor is also a productive way to use your life experience to help others.
Fernanda: Yes, because you have someone to talk to and help you out and hear you out.
Is there anything else you want to tell us about your time in the Mentorship Program?
Steph: I so appreciate OO offering this to staff, it has been really enlightening and a healthy way of connecting with others especially during the pandemic.
Fernanda: I loved it because I got so much help from my mentor and bonded with her.
---
Outdoor Outreach is a San Diego-based 501(c)(3) nonprofit that provides adventure-based youth development programs serving 1,700 vulnerable and at-risk youth each year. Through those programs, we're helping youth build resilience in the face of challenges, and confidence in their power to make a difference.